| | | |
| --- | --- | --- |
| | COCONUT MISSION | |
PREAMBLE
Recognising the importance of Coconut in the lives of the Nicobari People and its traditional influence on the economic and social development and aiming at the quality of life of the Nicobarese , the Andaman & Nicobar UT administration has resolved to launch Car Nicobar Coconut Mission to bring a paradigm shift in the very process of coconut production and its commercial use. The mission adopts a synergetic approach by bringing the isolated efforts being put forth by different government agencies like department of Agriculture, NHM, NHB, CDB, CARI, RKVY,NABARD, NAFED, EHL and Industries under different programmes /schemes to increase the productivity of coconut and its allied processing activities under one umbrella and its implementation on mission mode.
The plan of action includes increasing public expenditure on coconut based activities starting from planting to its commercial exploitation, reducing the regional imbalance in the average production of coconut, pooling resources, integration of organizational structures, optimization of manpower, promoting entrepreneurship among tribal youth, induction of consultative machinery at state and district level and aiming at establishing a proper organizational link between farmer to customer at all levels.
The goal of the mission is to improve the Quality of life of the people solely dependent on coconut for their livelihood by inducting new technologies into coconut based farming and making the coconut palm into "TREE OF LIFE" for Nicobarese.
SKETCH MAP OF CAR NICOBAR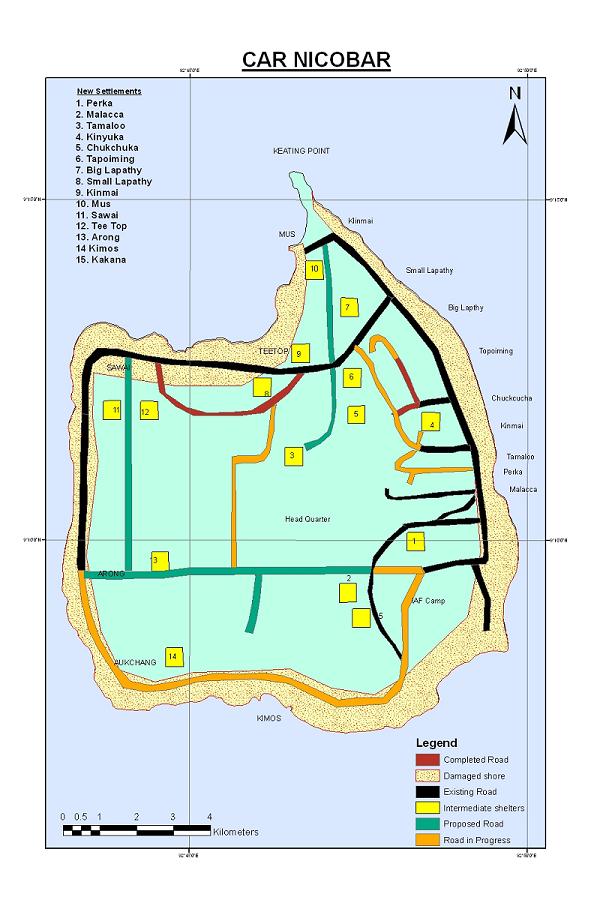 <![if !vml]><![endif]>

SALIENT FEATURES OF CAR NICOBAR
GEOGRAPHICAL AREA : 126.9 SQKM
GEOGRAPHICAL NAME : CAR NICOBAR
NATIVE NAME : "PU"
NUMBER OF VILLAGES : 15
NUMBER OF TUHETS : 306
POPULATION : 20,292 (as per 2001 census)
PERSONS DEAD/MISSING
DURING TSUNAMI 2004 : 270/584
POPULATION DENSITY : 159/SQKM
TOTAL RECLAIMABLE DAMAGED AREA : 756.23 Hectare
SUBMERGED LAND : 213.12 Hectare
AGRO-CLIMATIC INFORMATION
Normal Rainfall : 2750 mm
Temperature : 22o C- 32 o C
Relative Humidity : 70%
SOIL TYPE : SANDY, SANDY LOAM